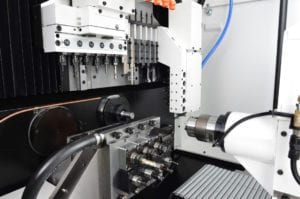 Imagine doing 1-3/8" (36mm) bar work unattended on complex mill-turn work with all operations completed on the front and backside of the workpiece without the need to chase the work around the shop going from machine to machine.  All the cross and end-working mill, drill, tap work is completed and even engraving and deburring is done in one machine.  That is what happens every day in hundreds of shops using Expand Machinery's GenTurn 36 CS 7-axis dual spindle Y-axis mill-turn lathes.  Some shops still harbor the old notion that 7-axis machines are for big, long running jobs.  But with 27-tools standard, changeover is often just a change of a few drills and taps. 
Steve Kennedy of Kennedy Enterprises in Anaheim, CA found that his business was inefficient because he was machining his complex parts in so many operations.  He was moving parts from machine to machine in an exhausting effort to keep up with the demanding production needs for his line of high-end vape mods.  Steve found that bottle necks in the workflow were inhibiting his production efficiency while waiting for the next machine to open-up.  This also cut into labor efficiency making it sometimes necessary to break a setup to get the hottest needed parts completed.  He finally saw the salvation in the Expand Machinery's GenTurn 36 CS machines.  Now Kennedy Enterprises has five times the production in the same floor space with less than one-half of the machinists.  They run the machines 24/7 holding 0.0001" on critical part dimensions, and thread-mill the 6-32 threads in a copper alloy "all day and night with phenomenal tool-life instead of using the troublesome tapping process on this gummy material."  Steve added that "these machines are amazing, parts go from the machine to assembly, surface finish is excellent and the parts seams line up perfectly.  Even the titanium components machine with ease, and the tool-life and surface finish is exceptional."                                                                                          
Having a heavy and rigid machine that provides a stable cutting platform yields excellent surface finishes and exceptional tool life.  The 8,000-pound machine features strong torque-tube castings and the large 110mm 5-bearing spindles provides outstanding stiffness. The 10-horsepower 6,000 RPM spindle provides the power to cut Inconel.  The 11-standard driven tools are supported by strong 42mm bearings for strength and stability in the cut.  
Standard features that facilitate unattended machining such as a parts conveyor, programmable parts counter with shut-off, chip conveyor, subspindle chip flush, programmable air blast, subspindle parts ejector confirmation, and cutoff confirmation are all included with the machine.  Dual coolant pumps and a 80-gallon coolant tank provide ample coolant or cutting oil to the cutting interface.  Even the coolant system features a standard flow confirmation sensor to ensure that the system is functioning at full pressure for operational safety. 
So you can see that there is no need to chase work around the shop, going from machine to machine, hoping that the right machine is open at the right time to complete each operation in order to make the contracted delivery date.  With a machine that does all the work in one operation you will find that schedules are more predictable. It is also much easier to comprehend the actual cost of production when all the work is completed on one machine which makes your quotations more accurate.  
Expand Machinery offers this same capability in the smaller ¾" (20mm), in the larger 1-3/8" (42mm), and in 3" (78mm) capacity machines to fit your requirements.  Contact Expand Machinery at 818-349-9166 or visit us at www.expandmachinery.com.