ARROW MCLAREN SP – EXPAND MACHINERY PARTNERSHIP
Schmidt Peterson Motorsports Partners [Arrow McLaren SP 2020] with Ganesh Machinery [now Expand Machinery] Indianapolis, IN – July 10, 2015 – Schmidt Peterson Motorsports (SPM) is proud to announce a new, multi-year partnership with Ganesh Machinery [now Expand Machinery]. Ganesh Machinery [now Expand Machinery] offers a full line of CNC Machining & Turning Centers, and is pleased to celebrate 30th year anniversary this year. Established in 1985 as a small family business, Ganesh's continued focus on unmatched quality and outstanding customer support has contributed to its growth and success. Ganesh Machinery's line of machines are now installed and serviced in thousands of machine shops, manufacturing businesses, technical schools and distributors across all industries. As an associate partner of SPM, the Ganesh Machinery [now Expand Machinery] branding will be featured on both of the SPM Verizon IndyCar Series cars in 2016. Harvinder Singh, president of Expand Machinery said, "The CNC machining technology that we provide helps innovators realize their dreams as their ideas and designs are turned into a physical reality. The resulting parts that are made on these metal working machines helps them win whatever race that they are engaged in. We look forward to having SPM racing turn their creative ideas into reality with our CNC machine tools so they continue with their winning ways in the future."
"The SPM team has produced seven Indy Light Championships in the last 11 years due to their commitment and dedication. These are values we embrace at Ganesh Machinery [now Expand Machinery] and we are proud to associate ourselves with another winning team." SPM team co-owner Sam Schmidt commented, "At SPM, we are committed to the highest level of performance possible, which means constantly pushing the envelope from an engineering and development standpoint. Ganesh produces incredibly quality machinery to enable our team to move to the next level as far as being able to accomplish those goals in house." SPM Engineering Manager Nick Snyder added, "Partnering with Ganesh Machinery [now Expand Machinery] is an incredible opportunity for our team. The machines built by Ganesh are absolutely top of the line, offering performance and reliability that is second to none. The relationship will significantly increase our efficiency and productivity, as well as greatly expand our research and development capabilities."
Indy Lights Championships
Firestone Indy Lights Victories
Verizon Indycar Victories
1st & 3rd place at the inaugural Indy Grand Prix of Louisiana

Winner of Firestone Pitstop Performance Award (Nola)

8 IndyCar Top-10 finishes 

Qualified 3 cars for the Indianapolis 500
1st – 4th finish at the Freedom 100

2 Indy Lights Race Wins

3 Indy Lights Pole Positions

Currently leading the Indy Lights Championship
SCHMIDT  PETERSON MOTORSPORTS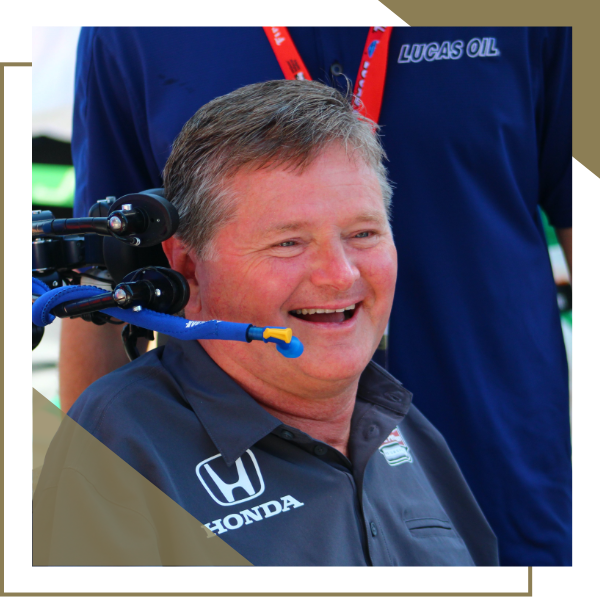 Sam Schmidt
Owner
Sam Schmidt is a former IndyCar driver and now co-owner of Schmidt Peterson Motorsports. Born August 15, 1964 in Lincoln, Nebraska.
He began competing regionally in 1992 at SCCA events. Right out of the blocks he earned first place in the Western Region. In 1993 he raced in the Formula Continental class where he finished first in the Western Region and won the prestigious National Championships at Road Atlanta. His good fortune continued in the Hooters Pro Cup series as he finished 3rd in points and was awarded Rookie of the Year in only his first professional season of racing in 1995. Still, Sam's dream was to compete in the Indy 500, and in 1997 he embarked on his first year of Indy Racing League (IRL) competition. He quickly emerged as an IRL star, making 27 career starts and earning a victory and a pole, both in his hometown of Las Vegas, in September 1999. On January 6, 2000, Sam and the team were in Orlando, Florida practicing at the Walt Disney World Speedway. As his car exited turn two, it hit the wall with a tremendous impact. Sam was airlifted to a nearby hospital in extremely critical condition. He was diagnosed as a quadriplegic, the result of a severe injury to his spinal cord at the C-3/C-4 levels and was on a respirator for 5 weeks. Finally able to once again breathe on his own and wanting to help those less fortunate than him, Sam, along with several of his closest friends, formed The Sam Schmidt Paralysis Foundation. In 2001, just 14 months after his accident and at the urging of his wife and parents, Sam announced the formation of Sam Schmidt Motorsports.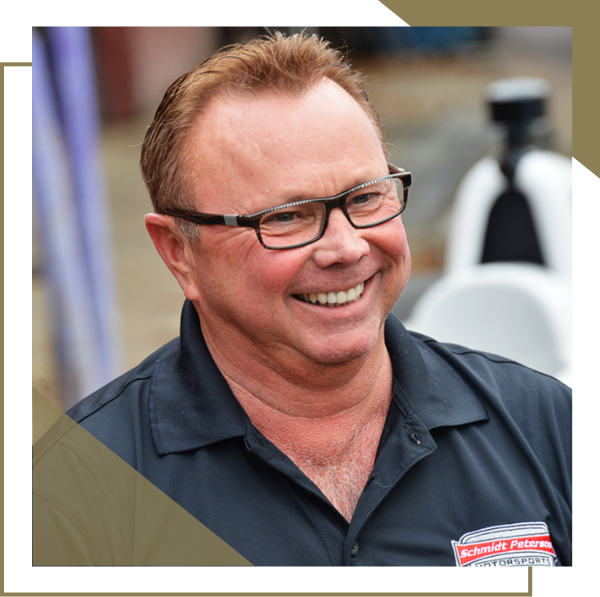 Ric Peterson
Owner
Ric Peterson has had a passion for motorsports for the majority of his life. His driving career began at an early age, racing stock cars, and open wheel formula cars, eventually landing himself a spot at the 1991 Toyota Atlantic Championship, and in the Canadian CASCAR series. In 1994 he played a key role in developing a racetrack in his hometown of Hythe, AB.
Racing is not the only thing Ric has found a passion for; he is a true entrepreneur at heart. For over 30 years he has founded, influenced and developed companies in a variety of industries, as a highly respected and accomplished businessman.  After a chance meeting with well-known IndyCar owner Sam Schmidt they formed a 50 percent partnership, and Schmidt Peterson Motorsports was formed.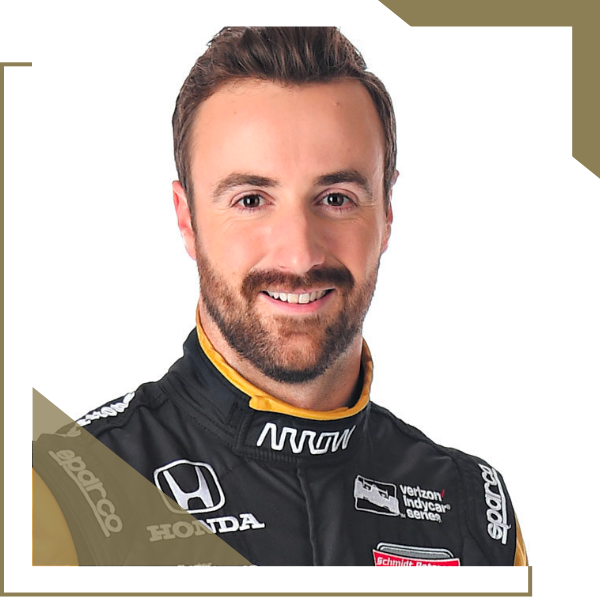 James Hinchcliffe
Driver
James Hinchcliffe is a Canadian race car driver best known for competing in the IndyCar Series. He currently competes part-time in the No. 29 Genesys/Petro Canada Lubricants Honda for Andretti Autosport. Hinchcliffe has won six races to date for Andretti Autosport and Schmidt Peterson Motorsports. Born December 5, 1986 in Toronto, Ontario and now resides in Indianapolis, IN.
2014 resulted in four top-five and eight top-ten finishes with five front row starts
Finished the 2013 season with three wins, four podiums, six top-five and 11 top-10 finishes
Garnered two podium, five top-five and eight top-10 finishes in 2012
Voted 'Most Popular Driver of the Year' by IndyCar Series Fans
Recorded three top-five and seven top-10 finishes to earn the IZOD IndyCar Series Rookie of the Year title in 2011 despite missing the season-opener; finished fourth at the Long Beach, New Hampshire and Kentucky races
Finished second in 2010 Firestone Indy Lights championship with three wins and series-best four pole positions; recorded 10 top-five finishes and 12 top-10 finishes in 13 starts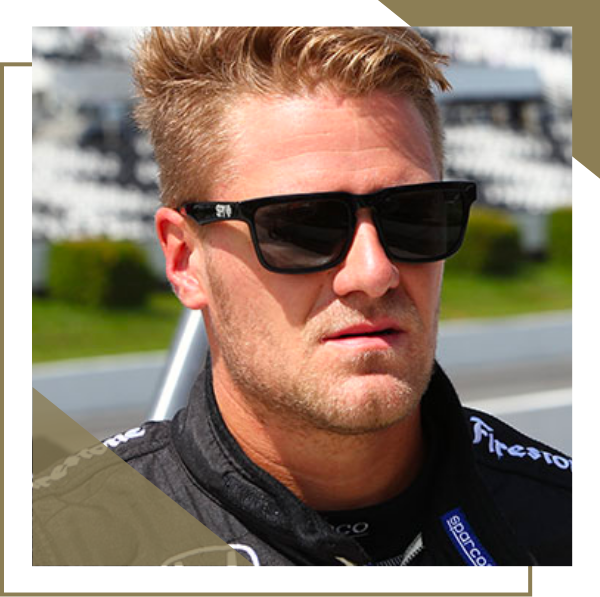 James Jakes
Driver
James Jakes is a British racing driver born August 4, 1987 in Leeds,West Yorkshire.
2013 – IZOD IndyCar Championship Rahal Letterman Lanigan Racing. Indy 500 Qualifier Fastest lap, 2nd Place Finish, 3 top 10 finishes
2012 – IZOD IndyCar Championship, Dale Coyne Racing Indy 500 Qualifier
2011 – IZOD IndyCar Championship, Dale Coyne Racing
2010 – Gp2 Winter Series, Super Nova 2 Podium Finishes, Malaysia, Abu Dhabi
2009 – GP3 Championship, Manor Motorsport, Virgin F1. ( Running 2nd in Championship until broken wrist in crash ended season ) 1 Pole Postion, 3 podiums
2008 – European Formula 3, Art Grand Prix Pole Positon, Race winner Pau Grand Prix, Fastest Lap. Macau Grand Prix Formula 3
2007 – 5th European Formula 3, Manor Motorsport Pole Positon, Race Winner Magny Cours, 3 Podiums, 2 fastest Laps. Macau Grand Prix Formula 3 5th

 TERMS & CONDITIONS   |   PRIVACY POLICY   |   RACING
expandmachinery.com | 818.349.9166 | Copyright © 2015-2021 Expand Machinery, LLC. All Rights Reserved.