The shop floor doesn't always know what the part size of the next job will be. The 8-axis GENTURN SL-42Y2 hybrid Swiss machine from Expand Machinery was designed to tackle that problem by being able to run a wide range of part sizes from 4 to 42mm. This "double-hitter" can machine your small parts as small as 4mm using a guide bushing and can also run you larger work without a guide bushing up to a 1-5/8" diameter all in the same machine; for a complete part in just one operation. Part completion "done-in-one" operation is critical in profitable part production.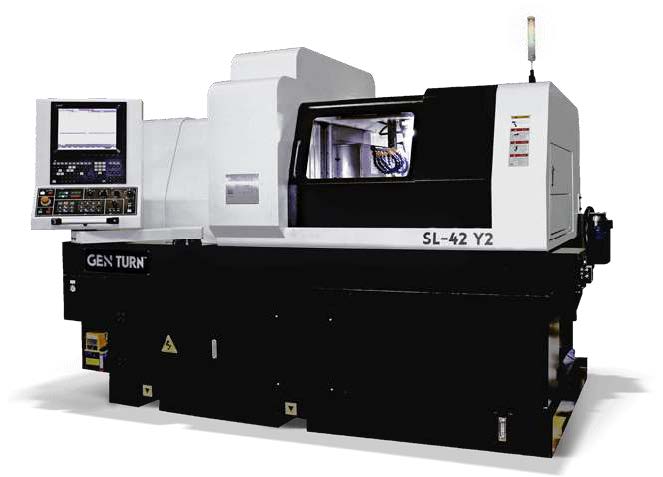 Having the flexibility of a removable guide-bushing to address the issue of how the work is held is not the only solution the SL-42Y2 provides. Having two independent Y-axis allows for simultaneous main and subspindle machine efficiency as well as providing for additional tooling possibilities to solve your tooling challenges. There are 33-tool positions and 13-driven tools provided as standard in the basic machine, including 13-driven tools, and 13-backworking tool positions to allow you to complete complex parts in one operation. The main spindle features 20-tools that include 6-live cross working driven tools and 3-axial live tools, 6-turning tool stations and 5-ID tool stations. The 5-ID tool stations can also utilize dual insert tool holders to increase the total tool count. The subspindle has 13-tool stations including 4-driven stations with 4-live toolholders included, and 4-ID tool positions. An option of up to 4 additional driven tools can be inserted into the subspindle tool block as needed for a maximum of 8-driven tools. The backside of the 5-ID tool stations on the main tool bridge can be utilized on the subspindle as required. Both the main spindle and the subspindle have a high-performance C-axis with full contouring with 360,000 radial positions (0.0001-degree resolution) to facilitate engraving and detailed milling requirements.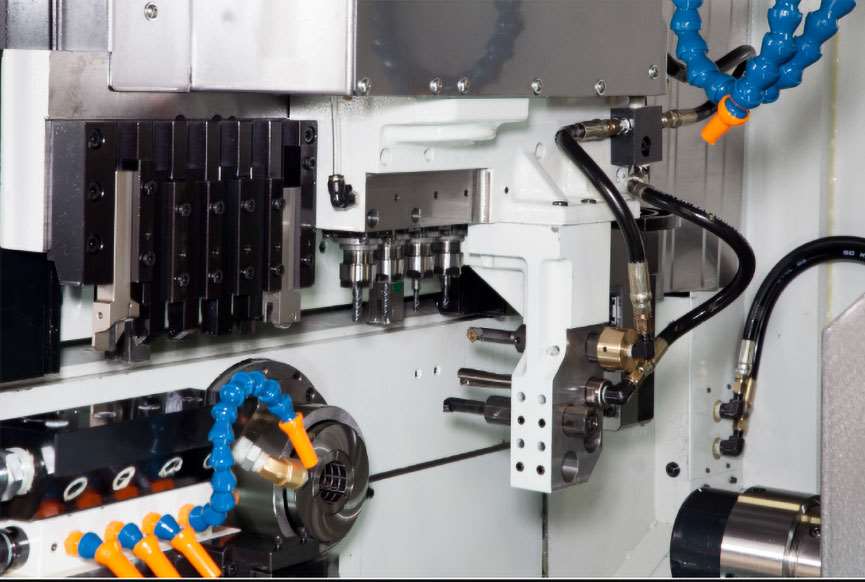 The main spindle uses a 10-horsepower motor driving a 6,000 RPM spindle that uses a Traub A- 42 collet. The subspindle uses a 6-horspower motor to drive the 6,000 RPM subspindle. The maximum cut length using a guide bushing if 12.6". The one-piece heavy-duty box style machine bed and base casting is made of a high-density Meehanite processed cast iron that is heavily ribbed to increase lateral stiffness and maximize stress absorption during the machining process. The torque-tube casting ensures that no twisting occurs in the bed during heavy cutting, or because of thermal migration. The assembled machine weighs over 13,880 pounds making it both the heaviest and strongest machine in its class and the design gives superb vibration control that provides for superior surface finish and increased tool life.
A high-performance Mitsubishi M-830 high-speed control provides ample computing power to allow for simultaneous machining on the main and subspindle for efficient production. The M- 830 control features a blazing 270,000 block per minute processing speed and a 2,700 block lookahead capability with Nano Smoothing and Super Smooth Surface Control as well as a massive 32GB solid state data server for ample program memory.
The GENTURN series of Swiss machines also come in 20mm, 36mm, and 52mm capacity to cover your Swiss machining needs. See these and other turning and milling machines from Expand Machinery at www.expandmachinery.com or call 818-349-9166 to discuss your machining needs.