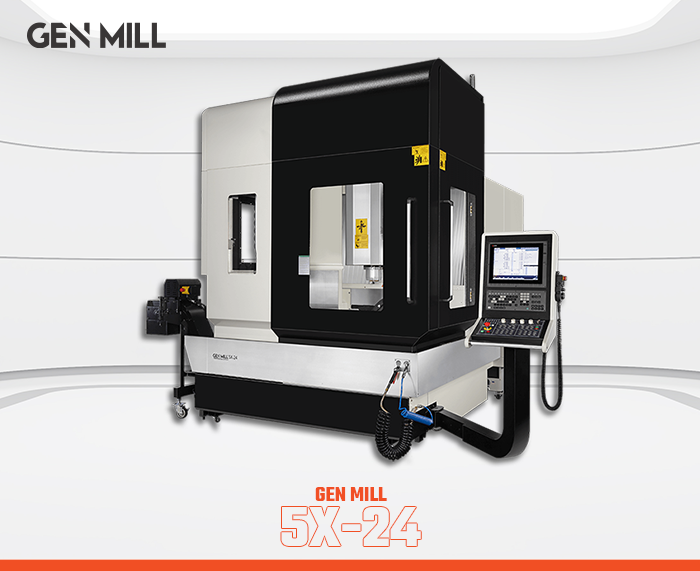 5-axis machines, such as the 5X-24 from Expand Machinery, offer many mold-making advantages where complex geometric cavities require a smooth and accurate surface finish, achieved through superior tool path and cutting angle control. The 5-axis machine's ability to rotate and tilt the tool in multiple directions allows it to access hard-to-reach surfaces all in one setup, which increases accuracy and reduces labor and lead time for faster mold production.
Optimized tool paths are another 5-axis advantage where wasteful air cutting is greatly reduced, and the need for tool changes is minimized for improved overall machining efficiency. The 5-axis's ability to maintain a consistent angle of engagement between the shortest tool possible and the workpiece is critical for both tool life and surface finish.
A 5-axis CNC machining center is a powerful manufacturing tool, particularly in aerospace, automotive, and mold-making industries. It offers advanced capabilities compared to traditional 3-axis or 4-axis machines. In conventional machining, adjusting workpieces can be time-consuming and reduces workpiece accuracy and operational efficiency.
Overall, a 5-axis CNC machining center offers increased mold-making flexibility, precision, and efficiency. It enables manufacturers to create intricate molds with shorter lead times and better surface finishes, improving product quality and reducing production costs. Beyond mold making, a 5-axis CNC machining center can be used for various complex machining tasks, making it a versatile investment for manufacturers. Expand Machinery offers 12" and 24" trunnion sizes in their 5-axis machine lineup.
Call Expand Machinery at 818-349-9166 for a detailed quotation or information on other CNC milling or turning centers, Swiss machines, and the Ganesh line of manual and CNC toolroom machines. See the full Expand Machinery lineup at www.expandmachinery.com.